History of Welcome Yule
Way back one Thanksgiving in the mid-80's, Rose Sheehan was inspired to put on a midwinter celebration at the Blue Light Coffee House in the basement of the Unitarian Church in Greenfield, Mass. She gathered together several of her friends (she was good at that) and with a bit of work and much enthusiasm, the first Welcome Yule was presented.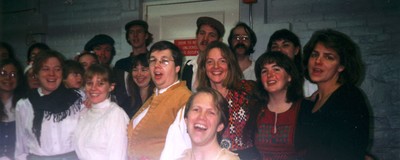 There were half a dozen of us, song sheets in hand, standing in front of the audience singing songs and, during the mummers play, making entrances from a back hallway and the kitchen. Many of us were members of local Morris dance teams, so we also drew on that resource for the show.
We spent a few more years at the Blue Light, then on to independent performances at the Senior Center in Turners Falls and the Unitarian Church in Amherst. As the years went by, the show became more elaborate but never lost that homely (er, homey) feeling.
By the 6th season, we were ready for the Big Time. The Shea Theatre, here we come! Soon we were to have a real stage, lights, a music director, and a stage manager. More practices. We had a actual stage setting. More practices. A Kids Chorus joined the show. More practices (at least it seemed like that at the time.) Though, of course, we are never knowingly over-rehearsed.
Since then we've become an annual event every December at The Shea Theatre. The year 2000 was a pivotal year for us as we had lost our creator Rose to the demands of her career. However, many of us who have been involved with the show were determined to keep it going. It turned out to be a great year and we were newly inspired for even better celebrations in the future.
Welcome Yule continues into the new millenium! During the COVID pandemic, in 2020 and 2021, we weren't able to do live shows, but prepared videos to be viewed on YouTube. 2020 saw a mix of old numbers, plus newly recorded pieces by cast members done in their homes. 2021 was a retrospective year, with a video that drew on numbers from the 1990s, 2000s, and 2010s. You can see many of us year after year, aging gracefully (or not!). 2022 marked the return to the Shea, with a live performance from a cast and crew delighted to be back with you to Welcome Yule!
"Wheel of the Year", created for Welcome Yule 2022 by Kate Greenough Richardson

Posted: Sun, Oct 2, 2011 02:30 PM
Updated Tue, Jan 17, 2023 12:00 AM